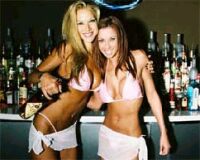 Private Swinger Parties

Swinger parties are the mainstay of the swinging lifestyle.

Every weekend, and during the week too, thousands of naughty evenings are being had by
sexually active open-minded Couples and selected singles getting dirty all around the world.

SwingMeDo let's YOU join the fun by giving you a massive list of privately held events
wherever you live, from Norway to Spain, Britain to South Africa, or California to Athens.

Some parties are pretty large events, with over 50 couples plus a good number of singles and females to help 'fill any extra gaps'.
But on the hole, most events tend to be held in private homes and more low-key, catering to around 6 to 12 couples or so. Themes can vary from pure sex orgies to fancy dress or even special fetish events with everything from rude-food to spanking taking place.

Every party is different, so check the lists for ones you like most, and then confirm the details directly with the host.
First-timers are generally always extremely welcome. Single males need to check the boards for events open to single men.

To attend or host a private swinger party, you must LOGIN to your Swinger's Lounge.


All these events are strictly for genuine swingers, so you will need to login to access the party-boards found inside.
From your Swinger's Lounge panel, simply click the Swinger Parties button to view a list of all the upcoming events.
Pick a party (locally or nationally) and the weekend or dates you prefer, then get in DIRECT contact with the host to book a place.
We do NOT get involved in privately hosted events. All parties are direct. All listings are 100% free, and all contact is with the hosts.

HOSTING an Adult Party of your own:
If you have a suitable venue and would like to host a small party, please see inside and list your event for free.
You may hold funcions as a "one-off" event, or on a regular basis. Our beginners-party-guide offers lots of tips plus sexy fun ideas!